Travelling By Bus
Chartered buses must register with us at least 48 hours prior to arrival.
There are no designated parking areas for buses driving attendees to the event. Some research ahead of time on bus parking locations is strongly recommended.
Municipal
The City of Toronto has a limited number of spaces across the city where buses may park free of charge. This information can be found on the City of Toronto's website on the 'Parking for Buses in Toronto' page.
These spaces will be in high demand, so make sure that you have an alternative location lined up in case no spaces are available.
Private
If you are looking for a parking lot that might be suitable for buses, you may find Parkopedia a useful tool to help you find parking suitable for buses. Because Parkopedia is a third party service, we strongly recommend to confirm any information you find by calling ahead, as the site may not be up to date. Contact information for the lot operator can usually be found if you click the options on the map.
Travelling By Car
Driving and parking downtown can be a challenge, and traffic can be unpredictable, so you may wish to consider alternatives, like carpooling or taking GO Transit.
Many GO Transit stations across the region offer free parking and are a convenient and reliable option for commuting downtown.
If you are travelling by car, there are a number of options:
'Green P' Parking
The Toronto Parking Authority tends to have the most affordable rates in the city. Check out the Toronto Parking Authority's website to view a full map of their available parking lots/garages. When navigating, look for the large Green 'P' signs when searching for a lot to park in.
Several of the closest 'Green P' Parking lots are shown below: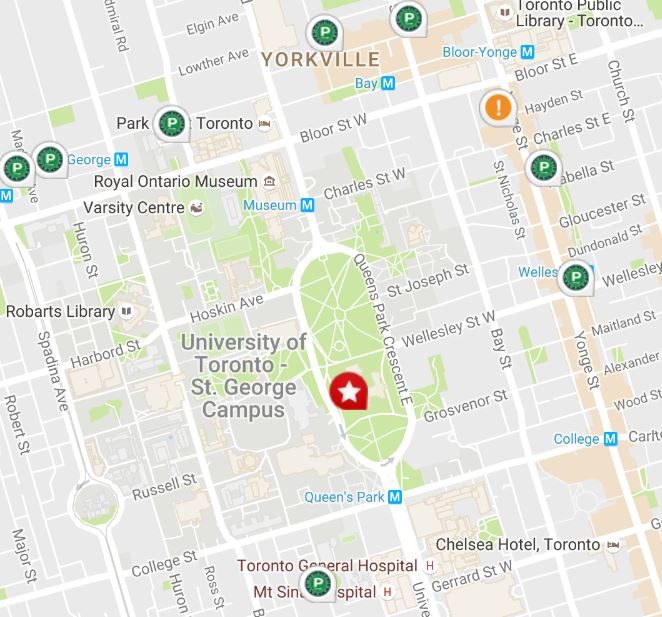 University of Toronto Parking Lots
Queen's Park is in th middle of the University of Toronto's main downtown campus, and provides many parking options as well.
Shown below are several of the U of T managed parking lots near Queen's Park: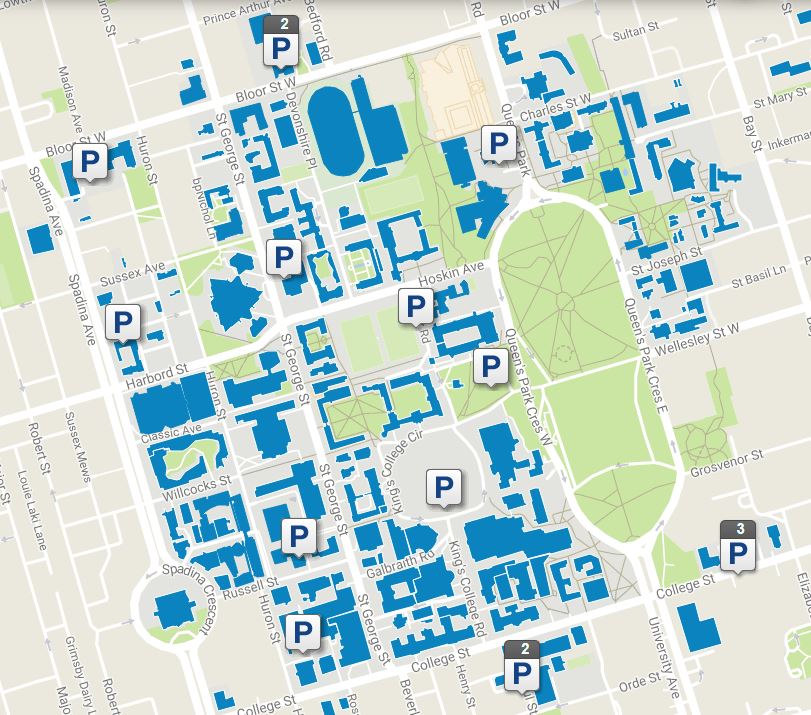 Travelling By Transit
Regional Transit: GO Transit
GO Transit runs regional transit services across the GTHA and beyond, including buses and trains. Some GO Transit stations include free parking so you can park your car somewhere near the edge of the city and ride GO the rest of the way into the city.
If you plan on travelling to the March using GO Transit, the simplest route is to travel to Union Station and take the University-Spadina Subway Line (Line 1) from Union Subway Station to Queen's Park Station. TTC employees would be more than happy to help you get there!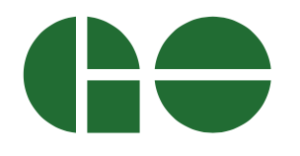 Local Transit Service: Toronto Transit Commission (TTC)
Queen's Park is accessible by transit on the TTC via the Streetcar and the Subway. For more information, please visit the TTC's website.

506 Carlton Streetcar
Disembark at:
College St at University Ave (Queen's Park Station)

Disembark at Queen's Park Station and follow exit signs to north side of intersection.
Map showing stop to get off at: